What is Osteoporosis?
Osteoporosis is a disease of the bones. It happens when the body fails to form enough new bone or lose too much bone or both. As a result, your bones become weak and may break from a minor fall or in serious cases even bumping into furniture leads to a fracture.
Osteoporosis is often called "the silent disease" because bone loss usually occurs gradually over the years without symptoms. Many people aren't aware that they have osteoporosis until they either have a bone densitometry test (DEXA) or have a minor fall which causes a bone to break. Often, this "fragility fracture" (a fracture resulting from a mild fall from standing height) is the first sign of osteoporosis.
When someone is diagnosed with osteoporosis, it is important to investigate for causes of osteoporosis other than aging.
What are the symptoms of osteoporosis?
It is very important to be aware that there are no symptoms in the early stages of bone loss. But once bones have been weakened by osteoporosis, you may have signs and symptoms that include:
Back pain, caused by a fractured or collapsed vertebra
Loss of height over time
A stooped posture
A bone fracture that occurs much more easily than expected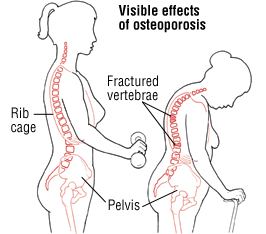 1 minute screening test for osteoporosis
Do you have a family member diagnosed with osteoporosis or fracture after a minor fall?
Have you ever had a fracture after a minor fall?
Have you taken steroid tablets for more than 3 months?
Have you lost height?
Does your upper back look more rounded than normal?
Do you weight <50kg?
Do you regularly drink excess alcohol?
Do you smoke regularly?
Did you undergo menopause before the age of 45?
Have your periods stopped for 12 months or more (other than because of pregnancy)?
This could be osteoporosis. Consult a Rheumatologist. Delay can cause fracture and disability.
Five simple steps for bone health and osteoporosis prevention –
Get your daily recommended amount of calcium and vitamin D.
Be physically active every day. Improve strength and balance.
Avoid smoking and excessive alcohol.
Discuss with a specialist about bone health.
Have a bone density test and take medication when appropriate. Testing is a simple, painless procedure.